Membership

Our membership has been created to take the guesswork out of nutrition and help you stay inspired, supported and on track.
FAQs
Who should take Digest + Debloat?
Digest + Debloat is for anyone who wants to help prevent and combat bloating, as well as support digestion.
When should I take it?
Digest + Debloat is versatile and can be used in a variety of situations. Here are some of our favourite ways to use it:
— Before eating, to stimulate digestion and prevent bloating
— After a meal that has caused you discomfort
— Daily in the morning, to support digestion and metabolism
— Before flying or when travelling, to help combat bloating

When will I notice a difference?
For occasional or meal related bloating, most people feel some relief right away. For chronic bloating, we recommend using it daily for at least one month. It's worth considering pairing it with Enhanced Synbiotic to support the health of the microbiome and address any underlying dysbiosis.
What does it taste like?
Digest + Debloat contains herbs that are digestive bitters, a class of herbs that stimulate and promote digestion. As such, the tincture has a strong, bitter taste, however you can adjust the taste with more or less water or juice.
Best supplement for bloating
— Women's Health
★★★★★



"While there are plenty of bloating tablets out there, it's ARTAH's Digest + Debloat that I really rate.



You simply take 1.5mls twice daily with water, as a tea, or neat to relieve symptoms quickly.


I won't lie to you – it does not taste good. But, the ingredients are gold-standard and it really does work."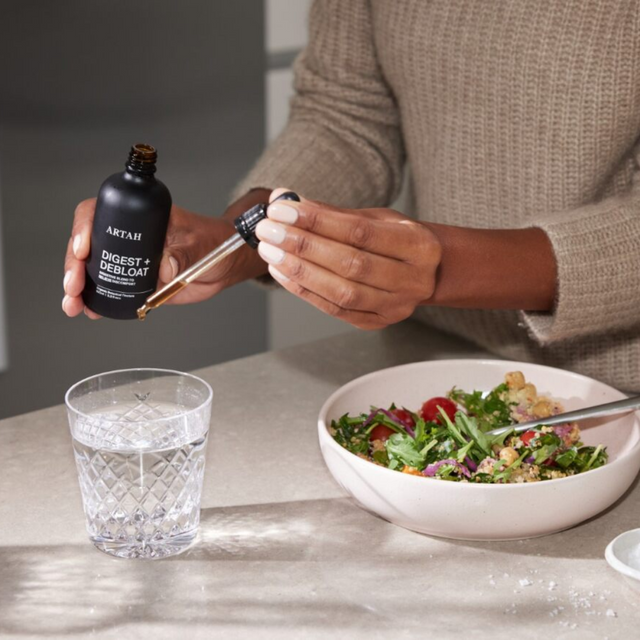 INGREDIENTS & NUTRITIONAL INFORMATION
Ingredients: Organic Wild Yam, Organic Chamomile, Organic Dandelion Root, Organic Artichoke, Organic Lemonbalm, Organic Mugwort, Organic Gentian, Ethanol.
Instructions: Take 1.5mls twice daily with water, as a tea, or neat to relieve symptoms of bloating.
Precautions: If taking medications, pregnant, breastfeeding or health condition present, consult your healthcare practitioner before using this product. Do not use if safety seal is broken. This product is not intended to diagnose, treat, cure or prevent disease. Food supplements should not replace a balanced diet.
Allergen Free. Suitable for vegans, halal and kosher.
| Nutritional information | 1.5ml contains | % NRV |
| --- | --- | --- |
| Wild Yam | 75mg | * |
| Chamomile | 100.5mg | * |
| Dandelion Root | 150mg | * |
| Artichoke | 100.5mg | * |
| Lemonbalm | 150mg | * |
| Mugwort | 100.5mg | * |
| Gentian | 25.5mg | * |
NRV = Nutrient Reference Value
* NRV not established